Guest Review | Crown of Midnight | Sarah J. Maas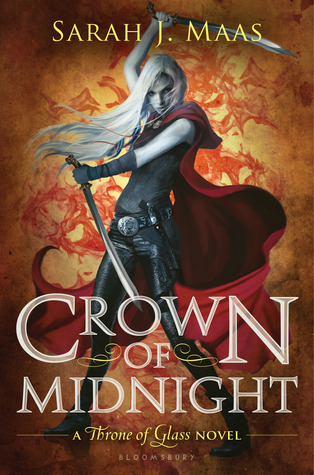 *image via GoodReads
In the months following on from Throne of Glass, Crown of Midnight shadows 18 year-old Celaena Sardothien as she settles into being the King's champion. Though she has escaped the merciless salt mines of Endovier, she's swapped one form of slavery for another as she deals with the King's opposition. But Celaena is far from loyal to the crown. Alongside old friends and current ones, she unveils dreadful truths that put her heart, loyalty and sanity to the ultimate test.
Where Throne of Glass had planted the seed of intrigue, Crown of Midnight continued to grip me from page 1 to page 416. Just when we thought we'd seen all sides of Celaena, a certain heart-breaking event caused us to see the ruthless assassin that came within finger's reach from Endovier's walls. Instead of growing tiresome with repetitive love-triangle side plots and the protagonist's 'filler' ramblings, as a lot of YA fiction drowns us with these days, Maas has built on the foundations set in her first book, creating a beautiful blend of intense action, heart-wrenching romance, unpredictable characters and relentless betrayal that sends us all screaming. This world is upside-down, nothing is what it seems, and Maas has had a delightful time plotting it, that wily little minx. I felt the same about Crown of Midnight as I had about the final instalments of the Harry Potter series. Though it starts off in the same tone as Throne of Glass, soon the beautiful gowns and moments of harmless flirtation are gone, replaced with a descending darkness that all but engulfs our spicy protagonist entirely. I'm a sucker for a strong, female lead, and though some may disagree with me, Celaena is one of the most balanced and believable characters that I've ever encountered in fiction – including those that I've created in my own work - yes, I admit it. I was also pleased to see Chaol fitting into a more intimate role, despite the events that later unfold, as the story is told by employing more than one POV. With this method under her belt, Maas has managed to get into everyone's minds, incorporate everyone's emotions and relay a variety of subplots that added to the characters and the overall story.
To pin-point one minor issue I had with the book was its lack of attention to our big, bad antagonist, the King of Ardalan. I felt that so much work and care went in to building up characterisation and relationships between the primary protagonists and secondary characters that the King was overlooked somehow. I'm certain the final instalment of the Throne of Glass series will delve deeper into the workings behind his madness, but it would have been nice to see a larger preview. I should also say something about Maas' unpolished writing style but with 50 Shades of Grey having sold 5.3 million copies with its wholly laughable writing style, it's safe to say that the part of me desperate to criticise has died and shan't be returning until next spring.
All in all, Crown of Midnight is a thoroughly enchanting addition to this captivating fantasy series, appealing to young adult and adult readers alike. It is non-stop emotional journey that keeps you on edge until you've turned that very last page. I laughed, I cried, I grew angry and frustrated by the sea of endless betrayal Celaena faced, and now I'm waiting for the magical day Heir of Fire is finally released.
Rating 4.5 out of 5
*Contains upsetting scenes, strong violence and sexual situations.
This post was written by guest blogger Emily (follow her
@EtSowden
)