The Mystery of the Clockwork Sparrow | Katherine Woodfine | Review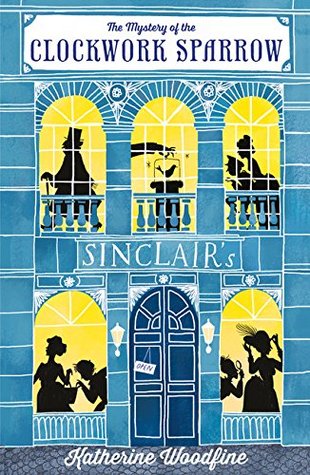 Sinclair's Department Store would like to welcome you through it's gilt doors and into a world of extravagance and commercial wonder. And it's within these pristine, prestigious and polished walls, our four unlikely heroes cross paths.
There's Sophie, a quiet orphan girl working in the millinery department who always trying her best to do the right thing; Billy, a slightly hapless but well meaning apprentice Porter who fancies himself to be the next super sleuthing detective; Lilian Rose, a wonderfully glamorous chorus girl and model at Sinclair's with a heart of gold and no nonsense attitude; and Joe, a grubby street urchin who's just trying to keep his head down and out of trouble from the more violent East End gangs.
When the one of a kind Clockwork Sparrow is stolen from Sinclair's famed exhibition - alongside a number of other priceless jewels - their world is turned upside down as the four race to chase down infamous London gang members, crack the code and save the day before time runs out!
So what's my verdict?
If you're a fan of super fun whodunit novels this book is definitely for you. 'Clockwork sparrow' throws you pretty much headfirst into the lavishly extravagant world of Sinclair's department store in the days before, during and after it's grand opening, in a Victorian-era London . The basic plot is a classic crime case of a high profile burglary mixed with the looming threat of an 'East End' baddie and serious lashing of the underdogs saving the day.
The underdogs in question are our four protagonists and between them with their insider intelligence of the store, personal experiences and street smarts, when working together Sophie, Billy, Lil and Joe, make quite a team - like the 1800s equivalent of the Scooby Gang. I personally found myself getting quite attached to Sophie and Lil's characters and loved their sisterly friendship throughout the book. The boys are also wonderful characters, the two of them quite young and a little naive but their bravery towards the end of the book is really endearing.
Aside from our main four leads, there's a whole host of supporting characters from the both 'upstairs and downstairs' at Sinclair's, from 'Captain' Sinclair himself down to the stable hands, shop girls and even the prestigious visitors to the department store.
There's also one very important character involved in the plot…Sinclair's itself. Woodfine's writing is fantastically descriptive creating a rich world of Victorian London, without it feeling like a heavy historical novel. It's especially great to see Sinclair's describe through Sophie's eyes. She clearly adores Sinclair's and her descriptions of the store filled me with the same feeling of wonder I have when browsing Selfridges or Harrods in London.
If I were to have one complaint about 'Clockwork Sparrow' it would be that I was craving a little more back story about Lil and Billy (as Sophie is our main heroine we learn a lot about her throughout the novel) - though I have noticed this may be the first in a series which should give us the opportunity to get to know the characters a bit more! The plot - though a classic one - is pretty predictable, I the guessed 'whodunit' about halfway through the book (or maybe I'm just a FANTASTIC detective myself). I can't really moan though, the book, like I said is super fun and definitely a great weekend or holiday read.
Reading soundtrack
For lovers of...
Mr Selfridge, Arthur Conan Doyle and Agatha Christie
*review copy c/o NetGalley