Say Her Name | James Dawson | Reviewed by Ria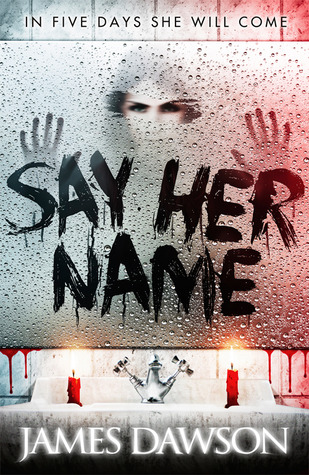 "…five days"
Roberta 'Bobbie' Rowe, isn't easily spooked, especially when she and her best friend Naya and adorable, local boy Caine are roped into doing the silly old 'Bloody Mary' dare on a Halloween night by the IT girls at her boarding school, Piper Hall. Low and behold after saying Mary's name in the mirror five times, nothing seems to happen...or so she thinks. The next day Bobbie finds 'FIVE DAYS' emblazoned on the steamed up bathroom mirror, and things only get stranger and more terrifying from then on. Soon Bobbie and her friends are caught up in a hellish nightmare with Bloody Mary at right their heels.
So what's my verdict?
Holy mother of all was this nightmare-ish in the best way possible! All the elements of a good ol' ghost story are there, from the archaic and creepy boarding school setting, to the annoyingly naive popular kids rebuffing the existence of ghouls in said school, and of course a little bit of blood and mischief on Mary's part. Dawson's take on the Bloody Mary urban legend is so inventive and he has managed to nail the horror genre right on the head, with twists, turns, and page turning suspense in every chapter.
My only real critique are that the characters, particularly Bobbie, feel like they're built from your stereotypical horror/slasher film and because of this I could almost always predict how they were going to react in certain situations. This isn't necessarily a bad thing, but they're almost secondary to what is a really engaging plot line. I will give Dawson credit for his dialogue though, it's fast and fantastically witty, which works alongside the movie-like pacing of the story. And that epilogue? Nope, nope, nope! (I'm currently planning on burning all of my mirrors as we speak!)
For me Say Her Name is the horror novel the YA universe has been lacking and is a book that'll have you peeping over your shoulder and avoiding all reflective surfaces for a long time!
Soundtrack:
For lovers of…
The Name of the Star (Maureen Johnson), American Horror Story and Scream.
This post was written by regular reviewer Ria, get to know her
here
.