Attachments | Rainbow Rowell | Reviewed by Ria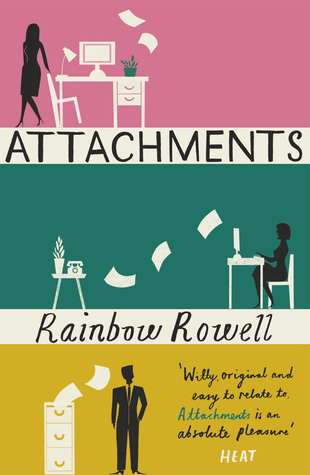 Fresh out of his latest graduate degree, Lincoln O'Neill is a down and out 28-year-old who's landed a job at a small town newspaper as their Internet Security Officer. Contrary to his cool job title suggests, Lincoln's night shifts are usually spent whiling away the hours eating his mother's home cooked meals at his desk, whilst he checks on the occasional inappropriate email and sends out warnings to staff using the word f*ck. Lincoln's job is mind-numbingly boring but at least it keeps his mind off his end of a relationship blues/existential crisis.
That's until, he spots Beth and Jennifer's emails start getting flagged in the system. Normally he'd send the two a warning email, but their chatting yet charming exchanges about work, relationships and their personal life have him grinning from ear to ear as he reads them. Beth's emails in particular catch his eye, and very soon Lincoln finds himself falling hard for someone he's never even met.
So what's my verdict?
Set in 1999, Attachments is a lovely snippet of nostalgia from the era when the Internet and emailing was still a brand new and a bit of a scary novelty. Despite the throwback to this era, the story, themes and the characters are pretty timeless. Our lead character, Lincoln isn't really a broken or angsty like a lot of guys (and gals) you see in these rom-com-esque novels. He's a little down and out from a break up, may be having a bit of a quarter-life crisis (not helped along by his sister constantly on his case), and honestly just seriously lost. Normally I get annoyed at characters like Lincoln, but I just felt a bit sorry for him at the beginning – and also quite empathetic as I'm feeling those post-grad feels too Lincoln!
Beth and Jennifer on the other hand are the optimistic souls of this book and you can seriously tell Rowell had fun with their exchanges. The emails feel just as natural as a face-to-face conversation, even when one of the two starts to write in prose. Seeing the two women from this perspective allows us to step into the same shoes as Lincoln and, just like him, I found myself falling for their friendly banter and sillier moments.
I actually found myself grateful to have a burst of the informal exchanges from the two women, whilst reading the book. It was a nice break from my brain fretting about how Lincoln was coping and his unrequited crush on Beth. Which is why it was interesting to see this dynamic switch, as Lincoln finally decides to become the leader of his own destiny in the book, whilst Beth and Jennifer are left to cope with some unpleasant situations.
Overall, Attachments is a really lovely and super quick contemporary read. As I said before the story and themes are pretty timeless, and there's a sense of familiarity about the whole novel, which does mean I pretty much predicted the ending. Despite this the light-hearted conversations and more comedic story lines were definitely my favourite parts, and I do have a soft spot for it's unique format and happily ever after ending!
For lovers of…
You've Got Mail, When Harry Met Sally, and Dash & Lily's Book of Dares.
This post was written by regular reviewer Ria, get to know her here.