Highly Illogical Behaviour | John Corey Whaley | Review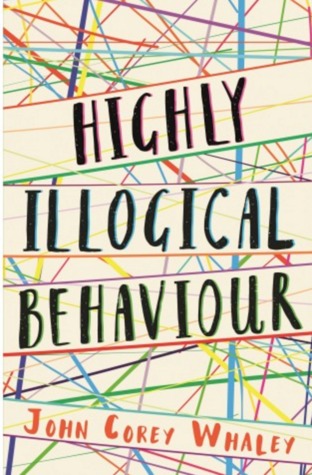 (I received a copy of this book in exchange for this review, but my opinions haven't been affected as a result.)
I've read some of John's novels in the past. Noggin has always struck me as an unusual, but pretty great novel since the first time I picked it up in a bookstore. Then when I heard about this book, I was naturally pretty excited to get my hands on a copy. I'd heard plenty of good things about it prior to receiving it, so when I did receive it, I was pretty eager to make a start on it!
Solomon is agoraphobic and hasn't left the house in three years. Lisa wants to get into one of the best psychology programs in the country, but ambition might not be enough. Lisa wants to "fix" Solomon, but as she and her boyfriend Clark step into his world, the walls she's built begin to collapse. Their newfound friendship and Clark's newfound bond are also threatening to do the same.
This is a really powerful and emotional novel.
There are very few characters and the plot is rather simple. It's not a novel that really sticks to the ideas of how novels should work, but it's such a well written novel with characters you really get to know, I finished it missing the characters already.
This book has an 'ecosystem,' which you navigate through. It's small, but complex, and I personally think that's been done with intent, almost to reflect the complexity of life. It's small because there's very few characters and there isn't the most complex of plots, but it's a complex web of life and I really like that.
John's way of writing yet again is stunning. Anyone that's ready any previous works from him will know exactly what I'm talking about, but you see it yet again in Highly Illogical Behaviour.
The ending is stunning and the book, overall, is heartwarming. I really enjoyed it, I think many, many people are going to enjoy this book and a lot of people are going to feel a lot of emotions about it as well.
Go read it is all I'm saying, and experience the ties between Sol, Clark and Lisa for yourself.