A Darker Shade Of Magic | V E. Schwab | Reviewed by Ria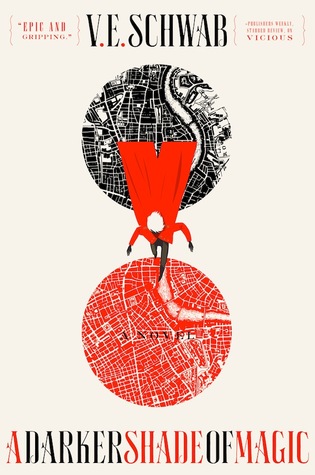 *image via Goodreads. Review preview copy c/o Macmillan-Tor/Forge & NetGalley
Like parallel universes? Well this book has four...
Grey London.
Dirty and as dull as it's name, void of magic and ruled by the looney King George.
Red London.
Flourishing and a beacon of prosperity where magic is revered.
White London.
Ruled by those blinded with power and murderous greed and magic can blind you right back.
Black London.
Dead. Non-existent. Defunct.

Kell is a Red London traveller, adopted ambassador between the realms and a smuggler (just don't tell the Prince about that last title). Though he sits in a privileged position at the right hand side Red London's aristocracy, Kell dabbles in the dangerous hobby of offering ordinary people glimpses of the lands he is lucky enough to be able to travel between. Though a harmless plight at first, Kell soon gets mixed up with a petty thief who saves him from a shifty enemy. Together they're thrown into some seriously sticky situations and on towards adventure.

So what's my verdict?
This was my first venture into Victoria Schwab's writing and I'm very impressed guys. Colourful and fantastically rich, A Darker Shade of Magic introduces us to a world that's both intriguing and tailored made for magical mishaps to happen.

Her key protagonist, Kell, to me suffers a little from what I'd like to coin 'displaced orphan syndrome'. He's a little bit of a wanderer who doesn't really fit in anywhere and navigates in the shadows of London(s). If anything he reminds me a lot of Hatter Madigan from The Looking Glass Wars (the large magical coat and reserved yet an endearing manner definitely help). We see most of the world though Kell's travelling eyes - which definitely helpful as he takes us through all the different variations of London and his own special magical abilities.

In terms of the world itself, well, it's vast to say the least. Though there are recognisable landmarks through each incarnation of London, the three (formerly four) kingdoms each rich with it's own history, social structure and political imbalance - nice to know things don't change no matter what universe you step in. I will say with this amount of world building within the first few chapters of the book, it does distract a little from the key plot of the book. By the time you get a rough idea of the cities you're already itching to find out what the main conflict of the story, which for some may be frustrating.

Nevertheless, though this was only a preview excerpt it certainly whet my appetite for more!
Reading soundtrack:
For lovers of...
The Looking Glass Wars, The Bone Season & Terry Pratchet
This post was written by regular reviewer Ria, get to now her
here
.