Vicious | V.E. Schwab | Review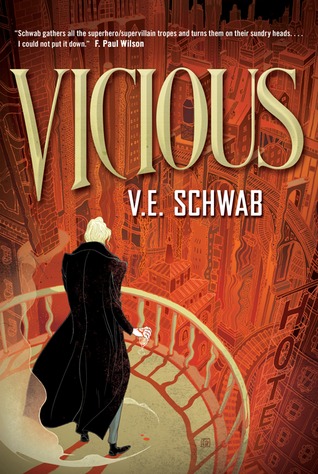 The Story
Victor and Eli are college students about to submit their proposals for their yearly projects. Eli has this interest in EOs – ExtraOrdinary people. Victor starts looking into adrenaline. But when their interests collide in one of Eli's theories, they find themselves risking death to see if this seemingly supernatural mix of adrenaline and death make someone an EO.
They succeed.
10 years later, Victor has just sprung himself and one other, a man named Mitch, out of jail. They pick up a girl from the side of the road and together they track down Eli who has turned more into a villain than Victor ever thought he could. Can they stop Eli killing people? Is Victor's ExtraOrindary gift one that will help or hinder?
My Thoughts
I really enjoyed Vicious, by V.E. Schwab. Definitely not as much as some of Schwab's other books (I loved
A Darker Shade of Magic
), but it was still very good. I loved the X-Men kind of idea, and Victor and Eli were a little like Professor X and Magneto: friends with a fall out and general love-hate dramas.
Schwab does this fantastic job of making neither of them really the 'good guy'. Even though the majority of the time the story is from Victor's perspective, and you're routing for him, the things he does are terrible, and you have to disagree with a lot of his tactics and reasons for doing things. Schwab writes it really well, this sort of tension between using their powers for good, or what they think is the good, and using them for destructive endeavours.
The other characters were also really neat. Mitch was this typical muscle side-kick kind of character, and Sydney, the little girl was sweet but strong at the same time.
The plot was a great one, and while I'm not often a fan of flash-back style writing, it worked so well in this book, and when the past finally caught up with the present, it fitted everything together really wonderfully.
If you're a fan of Schwab's writing, and you haven't read Vicious yet, then do pick it up. She has a great writing style and she really draws you in with her stories and characters.
Have you read Vicious? Or any of Schwab's other books?